Using the Map
---
Opening the map module
You can open the map module one of two ways.
Either click on the Map Button on the main Dashboard Page

Or select the Map in the Modules menu item.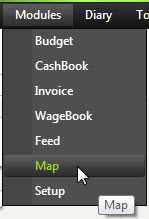 ---
Using the map controls
Navigate

Allows you to navigate east, west, north & south on the map
You can also use the mouse left button to navigate the map
Zoom

Allows you to zoom in and out of the map.
You can also use the scroll button on your mouse to zoom in and out.
Map Layers

Map - shows a map layout of the map

Terrain - gives you a terrain view of the map (may need to be zoomed out to use)

Satellite - a satellite view of the map

Labels - gives you labels on the map, such as road names and towns
Centre Map
If you get lost on the map, you can select the Fit All button to take you back to the centre of your map.

Go To Address
When you are first drawing your map, you can type your address into the box and hit the "Go to address" button to let Google navigate to your address.

Paddock Size

Works out the area, based on the paddock as it is drawn.