How to Use Cashbook
Cashbook Introduction

Cashbook is designed for importing bank statements using internet banking. You can easily record and modified your transactions in cashbook page.

How to use Cashbook
How to create new bank account
To create a new bank account click on Add icon which is shown with the red circle at the above image. A new window comes up(below image) and you can enter your bank account details. At the first box add the name of your account and at the second box add account number then press save button. Now if you click on Select Account drop down (at the left side of the page) you can see created account in the list.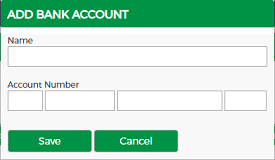 How to add account code and tax type
If you click on setting icon which is shown by blue circle at the first image, a new window comes up. At the new windows click on Add Account Code button as it shown below. At the new window input Name and Code of your account code then press save button. Now this account code comes up to the Account Codes panel.There are setting and delete buttons follolw by this account code and you can make a change if you click on setting button or delete this account code if you click on delete button.
If you want to create a new tax type click on Add Tax Type button as it shown below. On the new windows input name and rate for this tax then press save button. You see this tax type on setting page follow by setting and delete icons for changing and deleting this tax type.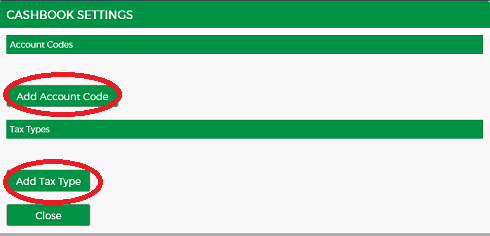 Manage Bank Accounts
Next to the Add and setting icons there is a dollor icon (it is shown with the yellow circle at the first image above). If you click on it a pop up windows comes up, here you can delete, merge and retotel your bank accounts. First select your bank account from the Bank drop down. If you click on Delete Account button this account will be delete permanently. If you want to merge the inforrmation of this account with another account click on Merge Account button now select the bank account that you want to merge with the first bank account and click on Process Merge button
By clicking on Retotl button you can go through whole the transactions if the balance is incorrect
How to add transaction
First click on the Select Account drop dow list at the left side of the page,here you can have many bank accounts (if you already created them) select the bank account that you want to make a transaction for that.Then press Add Transaction button. below window comes up. Fill whole the below boxes:
Date: input the date of the transaction
Other Party: input the name of other party(recommend to save the other party information in the OTHER PARTIES section)
Reference: write your details
Transaction Type: Choose transaction type (withdrawal/deposit)
Amount: Input value
Account Code: Choose account code (To see account code values first you need to create them as explained before)
Tax Type: Choose tax type (To see tax type values first you need to create them as explained before)
After filling whole the boxes press save button. Now you see this transaction on the main page for that date(you need to set the date at the right of the page to can see this transaction). If you want to see the list of transactions set date at Date From tand Date to boxes at the right side of the page, now you see the list of your transactions for the set date. You can use Date Ascending option to precede earlier values later or Date Descending option which is vice versa.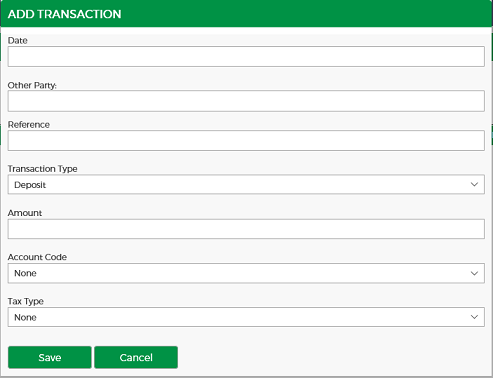 When you add a new transaction you can delete, edit,or copy it. If you put cursor on the date of the transaction the icons appear as it shown below
Delete transaction
Edit transaction
Copy Transaction
How to change transaction
When you click on edit the following window comes up here you can change transaction information then press save button to save the changes to the transaction.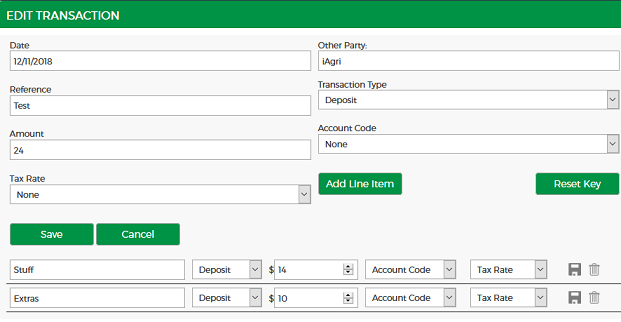 Reconcile Button
You can do reconciliation at the Edit Transaction window. First click on Add Line Item, the Reconcile button will be appear with a line at the bottom of the page as it shown below. Add your information to this line. You can add line as many as you want to make a comparison among them then click on Reconcile button, a pop up window comes up and shows result of the reconciliation. At the end of each line there is a save and delete icon which you can save this line item for the next time or delete it.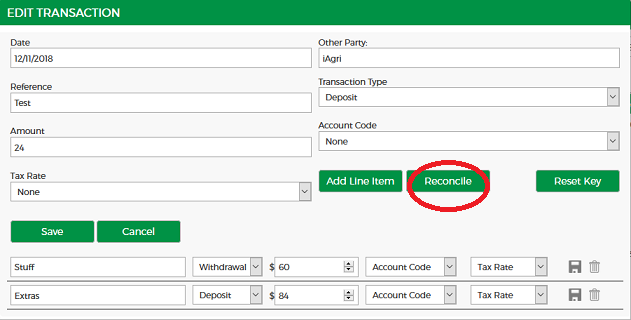 Import Transaction
You can import transaction from external file inot cashbook page. Click on Import button at the right bottom of the page to import transactions for you. A pop up window comes up as it shown below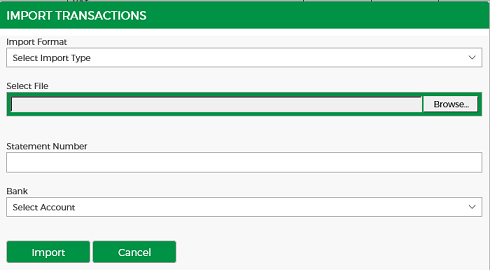 Import Format: click on Import Format drop down, you can see a list of files that you can import. Select your desire file from the list (If you cannot find the type of your file here, means you cannot import it)
Select File: Click on Browse button and find your file from your computer
Statement Number: enter the statement number
Bank: Choose your bank account (whole of the transactions from this file add to the selected bank account)
At the end click on Import button.